okay folks thank you all for watching our videos the way you do we see the number of hits we get that's good for us as a dealership and we appreciate it don't forget to click the like, button right down here my name is Chrissy Anderson. I am with mount comfort RV this one will probably set some records for us as far as number of views in a very short amount of time because there's a ton of anticipation for this product behold the 33 43 new air a brand new coach offering from Newmar that is targeting a market that's never really been targeted before quite frankly there's been some companies through the years that make a half-hearted attempt at doing this nobody has done what they've done they've given you Dutch star quality under 34 feet in some cases this is more like mountain air when it comes to the the amenities that are on this.
So, to put this at a whole-new price point for people you know some people coming up are just not going to want a big coach, but they want that luxury level this is a great coach for them, but. I think there's also a huge market for this for people that have a 40 45 42 footer and they just you know they're downsizing they've done all that they've stayed for three months or full-time dand and and now they want to just they want to keep that same trim level, but they don't want as big a bus that's who this is going to target and they cut no corners on this this is a luxury 33 foot motorhome. So, without further delay oh by the way.
I new microphone so, if you've been watching those last few videos this week. I apologize for the sound quality hopefully this one's a little better for us let's let's take a look little things like we talked about with all of them this does have we did option this in with the new flagpole holder. So, you can fly your flag hi this has the masterpiece paint finish on it.
So, all the way around it's gorgeous paint we have the Diamond shield front mask to protect against bugs of course this has a backup camera and side cameras, but take a look here we've got a camera up there got one on the side up high we'll come back to that a little bit, but when. I when this coach arrived and. I started playing with it a little bit it blew my mind with some of the technology that is in here and.
I'm still not 100% sure how it works some of the magic that it works, but. I'll show you what. I do know, but for now we'll go here aluminum wheels these are twenty two and a half inch tires they're 305 s as a matter of fact.
So, many times when we downsize coaches we downsize that chassis and they do that in order to keep the the price down this has independent front suspension that's not normal for shorty coaches it's one of the first things they cut is is the suspension on the coach ad they won't notice, if we stick a straight rail in here well people notice people who have had independent front suspension don't want to give that up. So, we have that on this coach of course we have dual fuel fill LED marker lights. I just like everything else.
I've done this week. I apologize because the coach does have some dirt on it it literally just rolled on the lot. I know that people are chomping at the bit.
I get emails every day on the new air. So, we're getting the video and the information out there we have a nice pull out freezer refrigerator here oops which end opens there we go. I don't think.
I'm out all the way there we go you can set this to refrigerate or to freeze either one this does have a 3000 watt pure sine inverter in it that's what's mounted right there a pure sine inverter just means that it is a nice clean electrical signal. So, sensitive electronics like high-definition televisions computers that type of thing you're not getting any dirty power it's nice nice clean power we did option in the mirror package on this coach all the way down the side of the coach you have the mirrored baggage doors you have chrome baggage door hinges we have a TV mounted into the side wall nice big TV and this is on the normal Newmar pivoting magnetic pivoting bracket with the Bose sound system sound bar out here you notice frameless windows on this coach are of course standard also standard is the Girard awning up top much like a Dutch star mountain air Essex whatever instead of having an awning that is bolted to the side of the coach we actually have an awning that is molded into the side of the coach those are that gives you more awning space it's actually two awnings it gives you more awning space it's a better awning much better about pulling itself in windy conditions you've got a nice Dometic awning over the over the door as well. So, pretty much from one end of this coach to the other you're going to be under awning when you're out here which is nice you got to make the most out of it when you're when you're 33 feet long pull out trays are not the norm in short coaches they usually do away with that look at the storage in there it is ridiculous they have done a tremendous job of utilizing a short coaches underbelly to give you as much space as possible oh and by the way you didn't think you would have to reach in there and grab that tray did you it is a power baggage tray and both of these front two compartments there are some spare tiles of course this is polished porcelain tile inside the coach like you would expect, but power baggage store trades that's pretty cool all LED lighting underneath and these doors do open or these lights do come on when you open the door just like a refrigerator coming back here actually what.
I should have shown you can tell. I'm new to this coach. I missed it there let's get a better shot of that that is ridiculous.
So, you have dual power slide-out trays and a ridiculous amount of storage there are 40-foot coaches on my lap that don't have this much underbelly storage. So, you are not skimping this is insulated like every other Newmar thickest floors thickest wall thickest rook thickets basement floor in our industry they did not change any of that nice little storage compartment here you have some of your electronics for your wind sensor on your over-the-door awning in there it's a beautifully finished off compartment again LED lights moving on. I got to move quickly on this because there are time limits as to how long we want to be on these videos.
So, we can post it on all the websites we want to post it on so. I'll move quickly, but. I also want to show you as much as.
I can back here this is chassis tower this is our chassis disconnect these are our chassis batteries now this coach this particular one they use this for the photographs for the brochures it'll be forthcoming. So, it has a few more miles on it than just the 150 or. So, they usually show up at my dealership with and.
So, the reason. I'm saying that is because there's a little bit of road grime here and there on the coach that's because it did say take some trips to sunny climates to be photographed that type of thing. So, when the brochure comes out if.
I'm not mistaken it's this coach you're going to see flush mount slides of course beautiful one-piece molded rear cap you can see your backup cameras right here mounted a little lower than usual and we'll get to why that is here in a moment we did. I did haven't peel off the mirrored protective Zoar quickly. So, you can see how good this coach looks and then this releases this shocked me when.
I got to looking at this coach this is a side radiator Motorhome side radiator Motorhome in a 33 under 34 foot Motorhome again nobody's doing this this is this does not have a competitor in our marketplace this will still tow 10,000 pounds most of the time we go to the short buses we get down to that 5,000 pound tow ready you can fully load up this bus to its gross vehicle weight rating and still 10,000 pounds behind it that. I can't say enough that this does not have a competitor in our marketplace by the way the engine it's a 360 horsepower Cummins engine it has 800 foot-pounds of torque this coach has comfort drive like the rest of my Diesel's independent front suspension like we talked about tremendous storage side radiator coach people like that because you have. So, much better engine access to these and they do tend to cool a little better we have power window awnings as well you can see we have the emergency egress door we'll show you that as well here in just a moment there's where we fill our de F diesel exhaust fluid, if you're not familiar with that it's part of the engines after treatment to keep things running nice and clean and to keep it compliant with the EPA the diesel exhaust fluid they don't use a lot of it it's about one gallon for every 50 gallons of fuel.
So, most people fill that tank maybe twice a year. So, it's not a big expense when in the grand scheme of things LED docking lights are new for this year and a lot of the new Mar product of course it's new in this product because the whole products new all right well we have a little busier wet Bay out here. So, let's go over some of the stuff we see here we have access to tap water to hot water right out here we have hot and cold water at the shower of course we have a power hose real whole house water filtration system is right here.
So, all the water that comes through the coach comes through that now one of the things that's neat on here is this over here what do we got there well that's actually a macerator. So, you can turn on your macerator and it's think of it as a garbage disposal. So, anything left solid as it comes out of the holding tanks can be ground up and the advantage to that is you can shoot it a lot farther generally you know you might have up to a 20 foot hose on your sewer dump so, if you're more than 20 feet away you really can't get to your cake you can't go any farther than about 20 feet when you're dumping your sewer well in this case you can actually go quite a bit fun.
I'm not sure how long that hose is, but. I've seen up to like 200 feet, if you, if you buy the hose extensions where you can you can send that. So, much much better range when you're dumping your tanks you have gauges out here that tell you how much is in your tank.
So, you don't have to run in back and forth inside outside to see what's going on and of course again this is a heated compartment. So, enough about that questions on it combing moving on to the next compartment this one also shocked me a 34-foot the under 34 foot diesel pusher and it has hydronic heating on it folks this is your boiler room the green box you see this is what heats our coach and extreme temperatures now we can use the standard heat pumps to heat, if we are above 40 degrees, but, if it drops below 40 degrees one of your options for heating this coaches hydronic heating hydronic heating uses diesel fuel or electricity, if you're plugged into a 50 amp service or running your generator to actually heat up a boiler antifreeze the boiler antifreeze is a closed-loop system that circulates throughout the coach and there's little heat exchangers strategically located and hidden inside the coach. So, that as that boiler antifreeze circulates through it actually uses little fans to blow that out into the coach and we get a nice quiet efficient heat the other thing this does is gives you unlimited hot water, if you want to throw a load of laundry in the washing machines put it on high on and on hot and then jump in and take a 40-minute shower knock yourself out you'll have hot water to do it this is a 50 foot 50 amp short power cord it's on a power rewind reel that's a lot easier than wrestling it, if you look real close above that you can actually to the dirt devil in there as well this coach does have a central vac.
I think you're starting to get the picture they didn't forget anything on here this coach is loaded all right couple of things nice storage we have we kind of have the backside of that source compartment where the slide-out tray is and then we do have our battery system as well these are maintenance free AGM batteries this is an all-electric coach. So, looks like you've got one two three four eight of those batteries in there those work with that 3000 watt inverter in order to supply electricity even when you're going down the road to all the things that need it up front we have some chassis fuses this is where some of the boards for the Freightliner chassis are utilized in here you can hear the generator running it's not loud, but it's a little warm today. So, we turn that on.
So, it's nice and cool on the coach when we do go to the inside we'll pull that handle right there that will pop our front end now up front we have the standard 8 kW diesel generator and the other thing. I want to point out in here get a shot you can see your air horns in there, but in between the two air horns you see that red knob that's the hot water line to generator compartment option and what that does force is that gives us access to hot water up front. So, when we go to get the bugs off the windshield.
I'd rather do it with hot water than cold makes a lot of sense. I think get a good shot of the front end get a shot there's a camera you can take a look at see that camera up top. So, that's all four sides have a camera on them a lot of things to talk about there one to take a quick second to show you the gerard awnings it's a little breezy today.
So, they may not stay out long because they do have motion detectors on them that will pull them back in, but literally the entire side of this coach you're under awning. So, it may only be a less than thirty four foot coach, but it's got more awning space out here than most coaches do. So, definitely wanted to get those in the shot you can also see we have nice built in power window awnings.
I think they opened on both sides let's go take a look hey. I like it when the equipment cooperates there's one in back. I forgot to open, but will you get the picture it says one on the back window as well.
So, that's that's nice convenient power touch of a, button on the inside you don't really have to do anything. So, while we're at it let's show you that egress door we talked about. I forgot to go back and demonstrate that let's do that now okay last year Newmar introduced the egress door compared to other options such as going headfirst out of window this was pretty well received in our marketplace certainly.
I would rather jump out of here feet first then go out a window probably headfirst or even, if it's not headfirst it's not going to be very graceful compared to what. I could do here you know there was a it's a tricky thing to do because you don't want to take and put steps in because you're obviously going to cut into your lower storage compartment, but yet you want people as safe as possible and newmars always developing and. I thought this was maybe their coolest new feature of the year.
So, for this year magnetic door pull a tab it's off piece of velcro okay get my foot out of the way how awesome is that how easy is it now to get out that takes like two seconds to deploy and it could not be simpler this is just the type of innovation that Newmar does this is exclusive to Newmar they developed it nobody else has this quite frankly. I don't think anybody else puts as much thought into safety as Newmar does. So, definitely want to show this for you.
So, you can see just what the egress tour is all about this does not open from the outside it has a lock on the inside, but you really don't need it since there's not even a door handle on the outside. So, that's the new and improved egress store from Newmar now let's get you inside okay we are inside of the new Mar new air 33:43 this is obviously a 2018 model since its brand new on the 32 they make two different floor plans of this they make a quad slide version and they make this version which is actually a three slide, but it's really probably more square footage in the the quad slide since one slide is a full wall slide that kind of gives you even more space than two slides does and then we have two slides on this side. So, full wall slide over here two slides on the on the driver's side there's there's adequate room to walk through here it's snug, but it's not bad at all obviously.
I can turn around you get into the kitchen and it's actually kind of roomy right through here there's a lot of space come back through here bathroom is easily a easy easy easy to get to as is the refrigerator. I can get to the bed. I can lay on the bed.
So, pretty decent space in here let's get slides open up and. I can start showing you some of these goodies okay we're going to start in the driver's compartment we've got it all opened up now, but there's a lot of electronics on this coach and quite frankly. I haven't seen some of these electronics and other things yet so.
I'm learning, but this coach is pushing the envelope we're definitely using some automotive style technology that was developed actually with Freightliner you know obviously their relationship with mercedes-benz a lot of this technology is streaming down from there and and it's pretty slick. So, without further ado let's take a look. I'm going to start with the keys there's there's no ignition key on here so.
I've got this nice little Freightliner fob and as long as that's somewhere in the neighborhood. I think we can just kind of put the foot on the brake and that turns on the accessories and hit it again and. I think that will start the engine just like that everything is digital up here this these are not analog gauges they're there they're digital representations of analog gauges.
I guess you might say. So, everything as this coach comes to life is completely digital display ups up front that was pretty cool thing you know we've seen that that's coming coming through the cars and everything, but. I still think it just looks really really neat obviously visually going down the road those are very very easy to see at night the one that blew my mind was actually this right here that is an overview of this coach it almost looks like there's a drone flying around above us taking pictures down on us, but what it's doing is it's using those four cameras that we showed you on the outside front back and on both sides to create a digital 360 degree image and it's a little off right now because our slide rooms are open, but when the slide rooms are in.
I can see the travel trailers that were next to us and. I could even read the names on the side of them. So, it's not like it's a cartoony hey there's something there so.
I'm going to put a cartoon here to represent there no it was showing you the actual item that was there when the slides are in like. I said that the slides being out messed with it a little bit, but driving around the parking lot it was actually kind of freaky because like. I said it was almost like there was a drone flying above us shooting down taking a picture obviously our backup camera you can see what's behind us they're very very easily push-button start as we talked about that's that's brand-new for this year our side cameras work the same as they they always have you hit the side camera and you can see what's alongside, if you tear our slide outs are out there and these are these are HD cameras.
So, the picture is very very good new radio for this year of obviously everything's touchscreen bigger which is folks bigger is better. I can read it none of our eyes are getting better as we get older when things are bigger and it's also when you're going down the road you might have a little bump. I know there's a lot of times online in my in my truck.
I've gone to hit one, button. I've accident hit the other because you know the vibration of the road the bigger the target is the the better off you are. So, nice nice layout there as well little cubbies up top to hold things.
I've got my little charging station from my phone right there, if your phone supports Qi charging or wireless charging there's one there, but also look right over there Tony's utilizing one for his phone right now charging it up. So, you've got driver and passenger Qi charging that's pretty cool two cupholders for the driver this couch does have traction control which is a wonderful safety feature of course we have our 6-speed Allison transmission we have our fully hydraulic leveling jack system over here. I've got USB plug in and.
I've got an aux in. So, if. I just wanted to come out of my phone and and into there so.
I can listen to Pandora through our sound system that. I could do it through there while charging my phone or any other device that then that this coach does have a Silverleaf system in itself relief is coach controls. So, that you can control all your different things through one touchscreen we'll get to that in a little bit storage up front nice wood drawers here are our coats controls for heating and cooling there are adjustable foot pedals also all of our shades in this coach are Power.
So, we've got controls for our visor our front shades our side shades everything is electronic up here there's little pouches down below here and you can't see it, but there's even another you. I just found it right down here there's actually another USB port you know uh everything charges through USB these days whether it's our tablets our phone whatever. So, the more of those we can have around the better this does have comfort drive you know.
I can turn my steering wheel with my pinky finger, if you not familiar with comfort drive. I've done other videos on that we'll try to tag that in the senton in our same YouTube page here. So, YouTube comfort, if you just Google Mount Comfort comfort drive you should come up with that everything is power it's smart wheel all our controls are right here.
So, we never have to take our hands off of the wheel in order to do headlights wiper blades whatever. So, alright that's a little bit about the cockpit let's go up top here here's the main control center this is new for this year different styles which is being utilized they're a little bigger they're also a little better labeled for slide-out controls or security lights or privacy shades over the door awning window awnings on the outside Wi-Fi router there's one that's built in this coach has a built in and this standard equipment a built-in Wi-Fi router. So, that your coach actually becomes like its own little hotspot it'll connect to the internet and then you connect to your coach which connects you to the internet.
So, all your devices connect to your coach not through you don't have to do like a little hotspot which have limited range on them that's going to have a lot better range on it alright we're going to have storage up top here this is where you put a satellite receiver, if you have one and this coach does have an in motion satellite dish on the roof and then storage storage storage get my head out of the way and then more storage up top here this is new for this year all of the new Marwood colors have the high-gloss option. So, you can go with a matte finish you can go with high-gloss obviously in this coach we went with the high-gloss these two seats are extremely comfortable Flexsteel seats they're fully power they do rotate around. So, rotate around recliners built-in.
So, you can get very very comfortable and then a 34-foot coach that's going to be important you know when you're when you're dealing with a 45-footer you may not need to use a life the driver passenger seats quite frankly we're in a 34 footer you probably will, but the good news is they're comfortable you've got good viewing angles to the television with them. So, enough about that let's move on nice long sofa that is a really long sofa okay or is literally flair this okay this does lay down into a bed you know like a lot of other coaches this is built for two people, but we want to be able to sleep three or four people. So, this is how we do it here is our extra sleeping in this coach there we go we have these multiplex switches throughout the coach that control our shades our lighting everything you can see which ones are on because they are illuminated with the green LED and you can control a lot of different things from a central area that's the nice part about multiplex lighting is you walk in the front door.
I hit a couple, buttons and the whole coaches lit up you don't have to walk through the entire coach turning on individual light switches they moved the televator switch this year on all new Mars, if it has at elevator the switch is on this side over on the sofa side as opposed to it used to be next to the TV that's one of those good ideas somebody thought of now the booth it does not make a bet it is a very very kites real furniture. So, it is a very comfortable boot when you sit here you can tell that it's not just a foam cushion sitting on some plywood like a lot of booths are this is actually their springs underneath the seat and in the seat decking and all that. So, it's actually a pretty comfortable setup it's also very stable the table doesn't have the typical you know Wiggles back and forth six inches everything is chorion on all these surfaces throughout here and then we have storage built into both of the boos oops we got a camera angle here now as we got that camera pointed down.
I notice there's something missing there seems to be a shortage of carpet in this coach obviously a couple years ago a new mark came up with the design what they call more floor and more floor was their way of getting rid of the carpet, but it caused a completely different redesign of the chassis in order to support us a slide system that could could basically lift itself straight up and come in as opposed to coming in on an angle they had to come up with the star foundation which this is built on star foundation is just a system that is much stronger than other support systems underneath motorhomes where most of the companies take your frame rails from Freightliner and they bolt or weld on what we call outriggers or supports that go out to the outer edges of the coach Newmar went straight up with it and then used solid beams horizontally across that are all one piece instead of being bolted or welded on well that raises us up a little bit to give us that huge basement storage we talked about, but it's also a much firmer foundation. So, we don't have cracks in tile we don't have cracks in grout and we can make our slide rooms when we need to go straight up and out or straight up and in as opposed to like. I said climbing a ramp well the advantage of that is we can come you don't need the ramp for them to climb up you don't need much of a transition at all you can do away with carpet altogether.
So, this polished porcelain tile is throughout the coach even into the driver passenger area they threw some scraps of carpet down in there, but they're not attached to anything they're just simply to wipe your feet when you come in the door all right let's look above here good storage blu-ray player. I just noticed our outlets on either side of the CV have little bitty USBs built right into them get a shot of that how convenient is that you're sitting at the booth you can charge your device and as a matter of fact they're over here on either side of the sofa as well same thing you can see all the indirect lighting built into the slide room both in the overhead fascias and the verticals and. I love this kind of.
I don't. I caught a lattice effect on the on the ductwork it's gorgeous quite frankly now our color scheme on this coach is Moonbeam inside and out that's the exterior package in the interior package now you can mix and match the newmars as you as you please you can do one package for the inside one package for the outside this is this this wood is sable maple it looks a little different than sable has in the past because normally sable was a matte finish this is obviously the high gloss version of sable maple. So, that's simply an option like.
I said on all wood colors alright as we move back into the kitchen everybody wants to see kitchen storage now of course what everybody really wants out of a 34-foot coach is they want all the storage at the 43 and 45 footer chef and it's funny people want the short package, but they don't want to sacrifice a thing noubar understands and and they've been doing dealing with that for many many years. So, they're doing the best they can there's a lot of storage in this coach you see it's got the built-in trash cans that's new for this year and then good drawer space we have six drawers okay good overhead storage over the kitchen we have undermount induction cooktop that comes out and you can take it outside, if you want to induction cooktops cook using magnetic energy that's why they require steel pans instead of aluminum, but they actually do a very nice job they heat up and cool down very very quickly and then into the kitchen area here we have one huge stainless steel sink these are becoming more popular in residential and RV applications have one big thing you can really get large items into as opposed to two small ones that maybe you can't get that large item into. So, nice set up there talk about the window shades here these are Automotion window shades you have this setting for during the day where you can kind of still see out and see what's going on at night you can drop a black shade down and again it's automatic it's a press of a, button and once you drop that down you have complete privacy you can't see out they can't see in.
So, you're good to go there all right let's dig into self relief here we go this is part of the self relief system here and this control panel you can pretty much do it all from here, if we were at the home screen right now and without even touching anything we can see what's in our fresh grey and black water we can also see our house and chassis battery voltages and we can see that our generator is running and that both legs of power are coming in. So, that's without even touching anything now, if we go to AC power it you can you can get a little bit more into that it talks about you know your maximum charger draw your inverter is not on right now because the generators running, but this is where you could turn your inverter on that type of thing you want to see on your 12 volt power you can see we are both charging and we have our battery up to twelve point nine volts. So, that's good we can control our generator from here and our auto generators start from here our water system there's our holding tanks climate control you know you can kind of zone this off a little bit for heating and cooling, if you want the bedroom to be a little cooler than the living room and you turn on and off your oasis system to turn it on to either diesel or electric power here.
So, that's nice this coach looks like we have the floor heating option on here as well wonderful option you can actually use that to heat your coach a little bit too, if it's not real cold out you can use your heated tile in order to heat heat the entire coach that option is becoming more and more popular people are really liking that getting up to a warm floor everyday okay. So, this is a few of the things you can do on the Silverleaf system quite frankly this one's a little different than the last one. I had here.
So, in the interest of getting the video out right away. I haven't spent a lot of time on the system yet, but, if you have questions on it don't hesitate okay give me a call let's walk into the bathroom on this 34 footer it's a mid bathroom, but it is all in one room you can see that egress door we talked about earlier in the video it's right there hidden hidden behind the toilet good-sized shower for a 34-foot coach that's a big shower and then people want to see the bathroom storage. So, let me get some cabinets open there all right let's get a good shot of that.
I love the boxes around the windows they're all hardwood of course everything in this coach is all hardwood there's just certain things that. I'm sure. I'm forgetting to mention, but.
I hope you assume, if you assume that it's the luxury version you're going to be right on this coach things like fiberglass roof all solid hardwood heated floors things like that residential refrigerator and this full size even though it's 34 foot coach they did not skimp here pullout drawer freezer okay nice sized pantry soon and it's lit lights up when you open the door. I also wouldn't expect them that one all right into the bedroom we have a walk around queen bed and it is adequate to walk around it's not just something that's really really cramped. So, walk around queen bed as you can see no carpet in here either charge.
I knows the outlets here on the nightstands it's gonna be hard to get a shot of that climbing the way the outlets on the nightstand also have the USB ports in them. I think. I'll have to put some of those in at my home and then take a look at this this is really neat okay just a little added protection and.
I can tell you from personal experience even with a dual pane window and and good insulation in a coach somebody like myself that doesn't have any hair on top of his head, if it's cold outside you'll still feel some air kind of radiating off of that this is nice this just adds one more little layer between you and the great outdoors there. I have not seen this before this is new. I really like that feature okay in a 34-foot coach it's hard for me to believe they fit everything in here they did, but look they even did the stackable washer/dryer okay let's take a look at the rear closet LED lights and a safe.
So, that the other way there is a little leaf for the table in there okay we're going to give you one kind of final walk through front to back back to front. I'm just going to kind of follow Tony around and stay out of the picture sometimes in a smaller coach my big head can get in the way of a good shot. So, we're going to kind of just walk around the coach and give you a great shot and.
I'm going to try to make sure. I didn't forget anything this does have a 75 gallon fuel capacity on it. I don't think.
I've mentioned that yet we talked about comfort drive and push to start the dashboard controls with the optimal view we talked about that this has what's called Road watch that's from Freightliner of it again that's part of what's developed with mercedes-benz that includes things like electronic stability control adaptive cruise control where it will actually pace the vehicle in front of you so, if you've got the cruise set at 70, but the vehicle in front of you slows down to 68 it will slow down to 68 and keep your distance the same and even things like traction control all of your doors on the outside of this coach our power baggage doors. So, when you drop it in drive and and hit the release the air brake it automatically locks those doors, but also you can lock and unlock them from the outside of the coach. So, or from the inside of the coach for that matter.
I think that about covers everything. I can think of a one other feature that it has that we we typically only see on really high-end buses as an autofill option now the autofill you don't use it very often, but it's really neat when you're getting ready to go on the road let's say you've been in the campground for a month and of course when you're in the campground you're running off of there city water hookup it's time to go you want to fill your fresh tank well historically we would go unhook our city water connection either hook it up to a different connection like a hose connection and fill the tank or sometimes they just had a little door in the outside that you shove the hose into and when it ran out on the ground it's full you can go right in through the Silverleaf system hit a, button and tell it to fill your tank when the tank gets foolish that's off. So, you do that the day you're getting ready to leave and you know you've got nice fresh water in your holding tanks.
I like the autofill feature it's actually really neat really neat item. I know there's a ton of questions on this. I know.
I have not hid everything. I apologize for that, but we really wanted to get this video out quickly because we've been waiting on this coach we're excited about it price-wise. I can tell you that this coach stickers for just over four hundred thousand dollars four hundred and three nine eighteen is the actual sticker price on that of course here at Mount comfort RV we're going to make you a much more aggressive price than that, but that's the type of thing.
I can't talk about and put it online Newmar has rules and we we play by the rules. So, call me email me whatever it takes don't forget to the like, button we work hard on these videos give us the likes, if you would please and thanks for watching my name is Chris Anderson. I'm with mountain comfort RV.
I hope to see you soon.
Elegant 2018 Newmar New Aire 3341 Class A Diesel RV For Sale In
Excellent Newmar Introduces New Aire Vogel Talks RVing
Beautiful 2018 Newmar New Aire Steinbring Motorcoach Newmar
Elegant 2018 Newmar New Aire 3341 Class A Diesel Grand Rapids MI
Luxury 369 Best Images About RVs And Motorhomes On Pinterest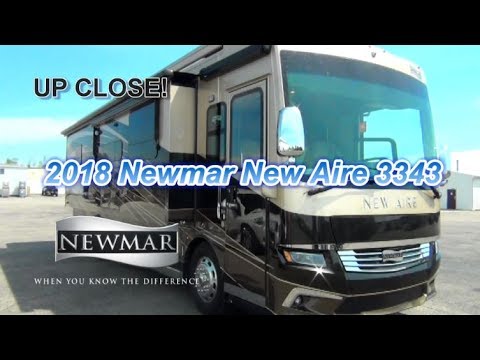 Fantastic NEW 2017 Tiffin Allegro Breeze 31BR Mount Comfort RV
Brilliant Newmar Mount Comfort RV Greenfield Indiana
Original NEW 2018 Newmar New Aire 3343 Mount Comfort RV YouTube
Elegant 2018 Newmar New Aire 3343 Class A Diesel Grand Rapids MI
Luxury 2018 Newmar New Aire 3343 Class A Diesel Grand Rapids MI
Wonderful 2018 Newmar New Aire 3341 Class A Diesel RV For Sale In
Unique 2018 Newmar New Aire 3343 Class A Diesel Grand Rapids MI
Fantastic 2018 Newmar New Aire 3343 Greenfield IN RVtradercom
Amazing 2018 Newmar New Aire 3343 Class A Diesel Grand Rapids MI
Beautiful 2018 Newmar New Aire 3343 Class A Diesel Grand Rapids MI
Innovative 2018 Newmar New Aire 3343 Class A Diesel Grand Rapids MI
Original 2018 Newmar New Aire 3343 Class A Diesel Grand Rapids MI
Elegant Inventory